L. Papius Varieties
---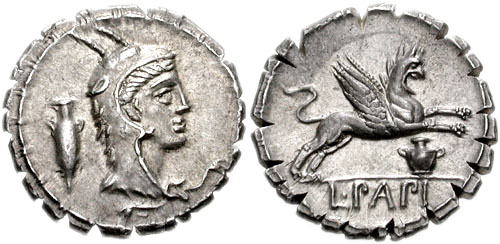 denarius serratus from 79 BC
Obv.: Head of Juno Sospita r., wearing goat skin tied under chin.Behind head, symbol.
Rev.: Grypon running r.; in ex., L. PAPI.; in field, symbol.
RRC 384/1
RSC Papia 1
RCTV 311
This coin is an example of symbols 2 (amphora / hydria) in Crawford's RRC
Photo from CNG coin shop no. 157812
Sydenham proposed that the symbols represent trade guilds (collegia opificum) in "Symbols on Denarii of L. Papius and L. Roscius",Numismatic Chronicle, 1931, pp 1-13
Crawford in RRC, suggested that there is no such assosciation with the collegia. Rather he believes they are a "random selection of pairs of everyday objects"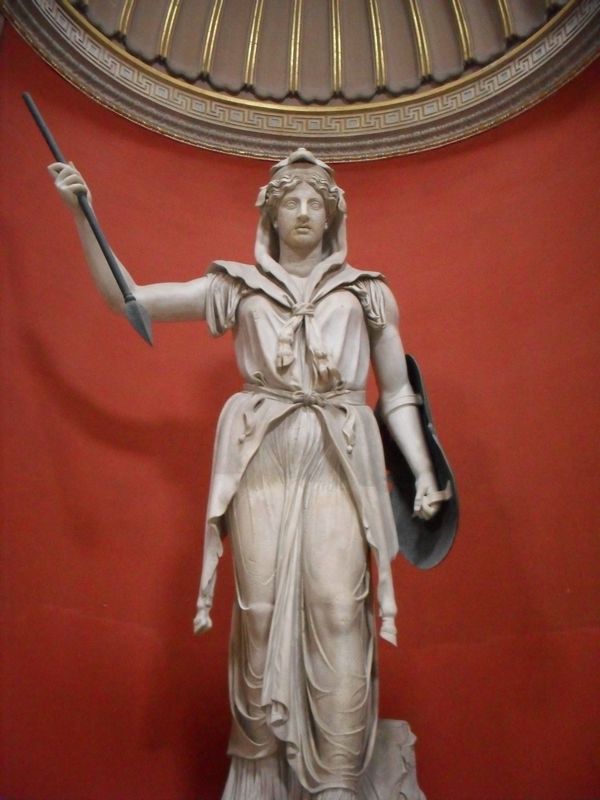 Statue of Juno Sospita in the Round Hall in the Vatican Museums.
Juno Sospita (Juno the Savior) was a Roman goddess. Follow the link to wikipedia for more information
---
Number of Varieties: at least 232
RRC illustrates 211 varieties. I have confirmed 21 additional pairs. This effort has relied significantly on Richard Schaefer's work in identifying most of them and confirming the rest. This brings the count to 232. Only 2 of the varieties have multiple die pairs. Variety 1 has 2 known die pairs. Variety 11 has 3 known die pairs.
---
Fakes
Several dangerous fakes of this type have been reported. Examples shown on this page are included under the symbol pairs: (39) and are described as being fakes Additional examples can be found on Forum Ancient Coins Fakes. Search for Papius using the search feature.
---
While the purpose of this page is to describe official varieties of L. Papius denarii, another interesting topic is that of ancient imitations based on the L. Papius type. Click here for information about this topic.
---
References
RRC stands for "Roman Republican Coinage" by Michael Crawford, 1974. RRC numbers are from plates lxvi and lxvii. RRC lists 211 varieties.
BMCRR stands for "British Museum Catalogue of Coins of the Roman Republic" by Herbert Grueber, 1910. BMCRR numbers are from page 371 of volume 1 BMCRR lists 119 varieties.
Babelon stands for "Monnaies de la Republique Romain" by E. Babelon, 1885. The L. Papius coins are described in volume 2, p. 279. Babelon illustrates 150 varieties. Click here to see them.
CNR stands for "Corpus Nummorum Romanorum Monetazione Repubblicana Volume VII Papia-Quinctilia" by A. Banti, 1982 in Italian and English. It includes 189 L. Papius coins plus one incuse and one imitation. They are organized in categories based on related symbol pairs and the symbols are identified (in Italian *). The photos are taken from auction catalogs, museum collections, and private collections. The weight is listed for most of them. * Volume I is also useful because it includes drawings of the symbols with the Italian and English meaning. In volume VII only the Italian names of the symbols are printed with each photo
"The Messagne Hoard" by Charles Hersh and Alan Walker. Museum Notes 29. The American Numismatic Society, New York, 1984.
Wildwinds lists several examples of this type of denarius
Phil Davis' site on Imitations of Roman Republican Denarii
L. Papius in the Fitzwilliam Museum Collection
RRC 384/1 in the British Museum Collection
Most noteworthy are two specimens bequeathed by Charles A Hersh. Specifically:
2002,0102.3594 which has been assigned number 232 in the list below
2002,0102.3596 which has been assigned number 228 in the list below
My collection: The Bonanno Ancient Coin Collection
---
Contributors
Images are either from my colllection or used with permission. Images and/or information contributed by:
Bill Blank. Kernunnos
Zach Beasley. Beast Coins
Dick Schaefer
Gunter M�ckel
Bill Welch: What I like about Ancient Coins
Martin Griffiths
Manfred Fischer
Pierluigi Debernardi
Emiliano Ramos
Dane Kurth ("Helvetica"): Helvetica's Identification Help Page: RIC lists
Jenny Van Rompuy
Jay Grande
---
List of Varieties
Entries are numbered in the same order as on the plates in RRC. Varieties which are not in RRC are numbered sequentially following those which are shown in RRC. The first such coin is numbered as 212

A * in the symbols field means an alternate has been suggested. Click on the picture to bring up the page for that variety which will include the alternate suggestion(s) of what symbols represent.

Click on each heading to sort by that field. Clicking on the "Picture" heading displays all of the available pictures without any of the other text fields.

Click on each picture to see additional examples of that pair of symbols. Alternatively click the number in the first column.

To keep informed of updates, subscribe to my blog. RSS feed is available.

View all types with details in a table
---
Contact me: admin@bonannocoins.com