Ancient Imitations of L. Papius Denarii
Introduction
A very interesting topic is that of ancient imitations of Roman Republican denarii. The purpose of this page is to provide information about such imitations based on the L. Papius denarii.
References
Phil Davis' site on Imitations of Roman Republican Denarii
Warren Esty's site on Ancient Imitations of Roman Coins
Examples
1 - Contributed by Gunter Mäckel
The Reverse is an imitation of the L. Papius type. The obverse is an apparant imitation of a bust of Apollo. Perhaps the model was a denarius of Mn. Fonteius from 85 BC (RRC 353/1a-d, RCTV 271-272).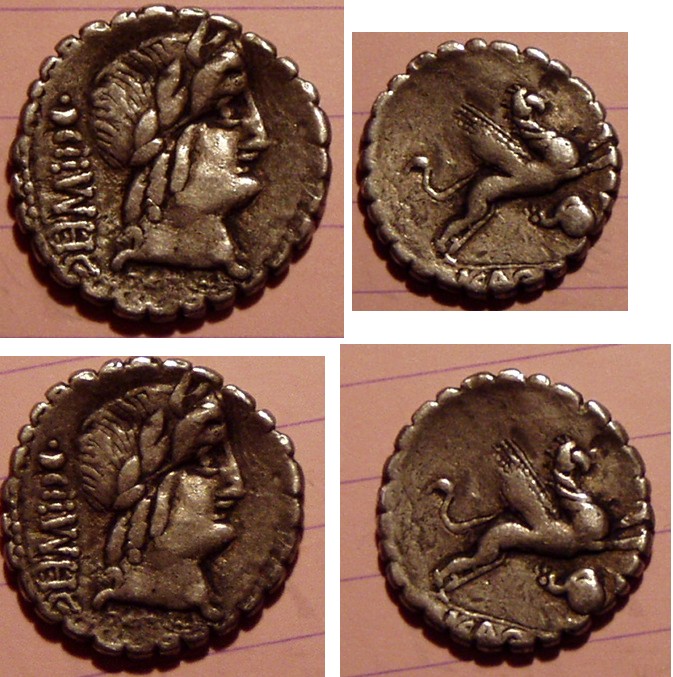 ---
2 - Contributed by Phil Davis (Catalogue no. M92)
Obverse type of Mn. Aquillius, reverse type of L. Papius

Classified by Phil Davis as Class A (Geto-Dacian), Group II (Monetary Imitations)
---
3 - Contributed by Phil Davis (Catalogue no. H2)
Obverse type of L. Calpurnius Piso Frugi, reverse type of L. Papius

Classified by Phil Davis as Class A (Geto-Dacian), Group III (Geto Dacian Hybrids)
---
4 - Contributed by Phil Davis (Catalogue no. E7)
Obverse type of L. Papius, reverse type of Cn. Lentulus

Classified by Phil Davis as Class B (Pannonian), Group II (Eraviscan)
---
5 - Contributed by Phil Davis (Catalogue no. E12)
Obverse type of C. Naevius Balbus, reverse type of L. Papius

Classified by Phil Davis as Class B (Pannonian), Group II (Eraviscan)
---
6 - BACC # 127
Fouree of L. Papius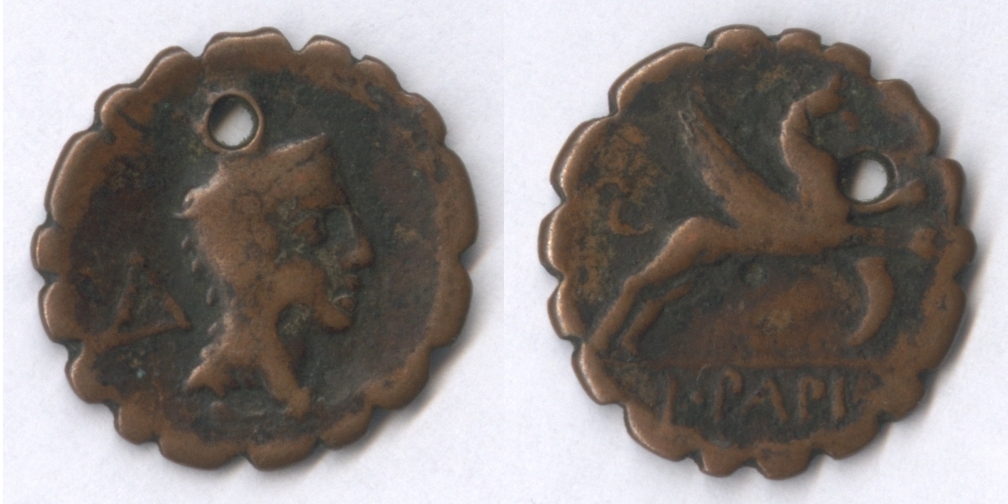 ---
---
L. Papius main page