FEL TEMP REPARATIO - Restoration of Happy Times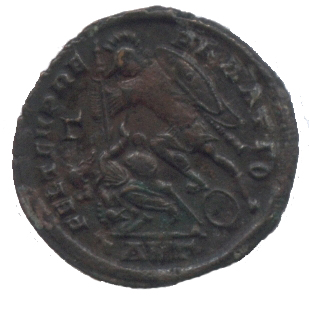 The mid 4th century Roman Imperial coins with the reverse inscription "Fel Temp Reparatio" are one of my favorite series of coins to study and collect. They are interesting to me due to the variety of rulers and types and because they are a good example of how the Roman emperors used coinage as official propaganda. The series offers many affordable common examples in excellent condition that are easily obtained by a beginning collector. Yet there are also scarce and rare varieties to pursue.
The standard reference for these coins is RIC volume VIII. Additional book and web references are listed below.
The Rulers
Click each image for more information about the coin in my collection.
Click each ruler's name for the corresponding Wikipedia article.
Denominations
Reverse Types
Victory Inscribing Votive Shield
Rome Siliqua RIC VIII 59-63

Falling Horseman

Kneeling

Sitting

Reaching

Clutching

Galley

Phoenix

Victory

Hut
(link to Bill Welch's page)

Emperor and 2 Captives

standing, Chi-Rho

kneeling, +

leaning, Chi-Rho

Phoenix

on globe

on pyre (rocky mound)

on rocky next

Emperor and 1 Captive

Emperor Standing
Emperor Riding

Procopius Reparatio Fel Temp
Comprehensive table by Mint
The following pages list the types as described in RIC. Photos of coins from my collection are used to illustrate the types.
My Collection
Click here to see the Fel Temp Reparatio coins in my collection
Links
Warren Esty's page about Fel Temp Imitations
References
Failmezger, Victor. FEL TEMP REPARATIO emphasized Rome's protection of the frontier against barbarians. The Celator. October 1992. pp. 14-20
Failmezger, Victor. Roman Bronze Coins: From Paganism to Christianity 294-364 A.D. Ross & Perry, 2002.
Kent, J.P.C. FEL. TEMP. REPARATIO, Numismatic Chronicle. 1967. pp. 83-90, and plate viii.
Kent, J.P.C. The Roman Imperial Coinage Volume VIII The family of Constantine I A.D. 337-364. Spink & Son Limited 1981. The University Press, Cambridge reprinted 2003.
Mattingly, Harold. FEL. TEMP. REPARATIO, Numismatic Chronicle. 1933, pp. 182-201, and plates xvii and xviii.
---
Contact me: james@bonannocoins.com
---